Overview
Important: This page does not apply to KORE Sponsorship users. Assets and deals are managed in your CRM.
Note: Because this tool can make so many changes at once, only admin users may use the roll over feature.
Within a multi-season deal, there might be different assets to be delivered each season. For this reason, when you connect assets to a deal, they apply to a single season. If the assets for a future season are the same or substantially similar to a previous season, you can save time by rolling over the assets.
(Note: You may also roll over assets to a prior season if necessary.)
Select deals
First, open the Deals page from the menu and click the Roll Over Deal Assets button.

This opens a search form. Select the seasons to copy from and to, then use the other filters to limit your search if desired. However, the search does not show every deal matching those criteria. Instead, it shows a deal if:
The deal exists in both the "copy from" and "forward to" seasons, and
The deal has at least one asset in the "copy from" season that is not currently in the "forward to" season.
Use the check boxes to select or deselect the deals to roll over assets from, then click Next. You may also hover the mouse cursor over the "?" icon in the window title for specific details about what gets copied and what doesn't.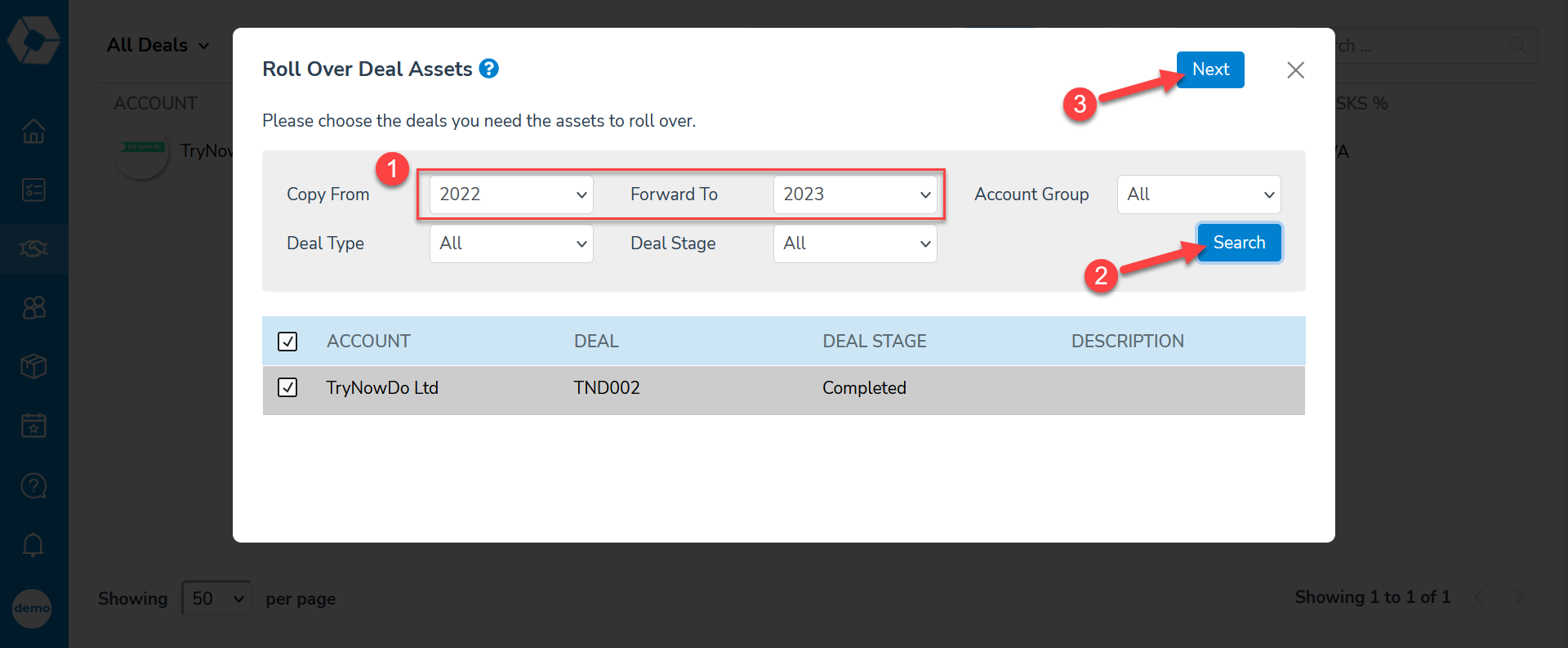 Create missing rate cards
An asset must have a rate card for a season before it can be included in any deals for that season. If any of the included assets don't have a rate card for the destination season, Activate will prompt you before creating them. The rate card information from the originating season will be copied into the destination season automatically if you proceed.
You may optionally deselect any assets which you do not want to automatically create new rate cards for. These assets will be omitted from the rollover.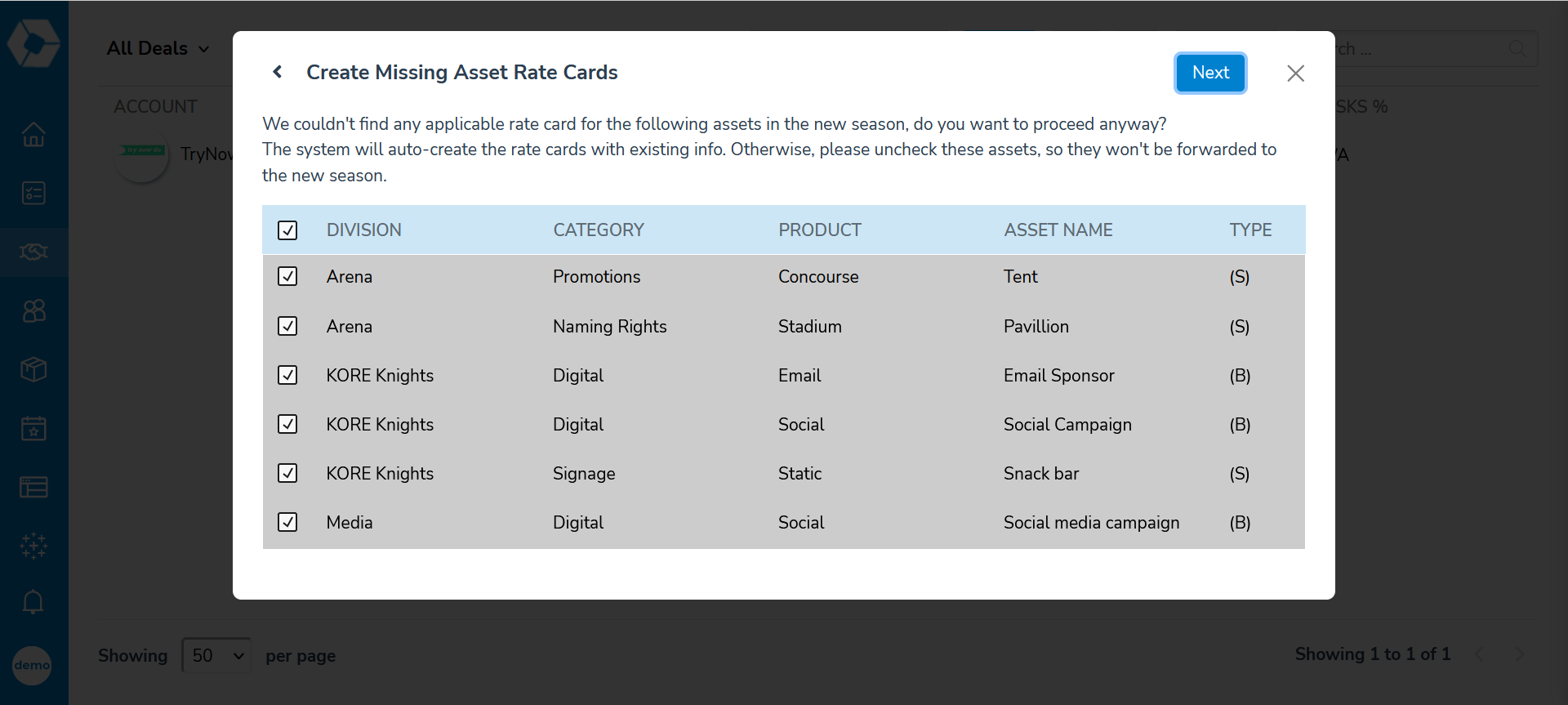 Complete the rollover
The system will prompt you for final confirmation before beginning the process. Click Yes to proceed.


Once finished, the rolled over assets will be listed in that season of the selected deals.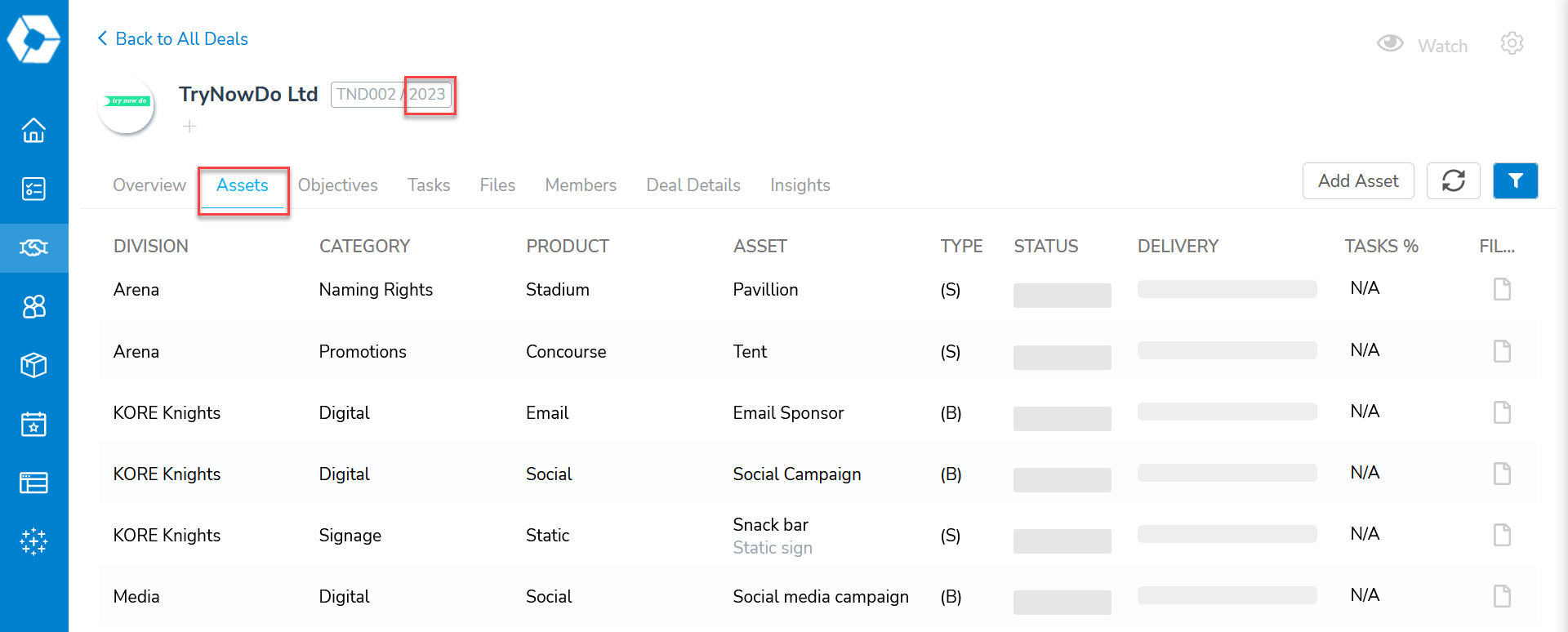 You may also edit the seasonal info for any rolled over asset by selecting it in the Assets tab and opening the edit window. Ensure that you are viewing the correct season, then make the needed changes and click Save.