📢 On this page, you'll find the latest Helix features and updates released by date. Reach out to your Customer Success Manager if you have questions.
November 7, 2023
Sync Helix Audiences Into DWA
Introducing a daily sync of your audiences in Helix to your data warehouse. From your data warehouse, use your audiences for reporting or push them into your marketing tools. This new feature allows you to build more targeted campaigns and improve outreach to fans by leveraging your Helix audiences in other tools. Your now actionable data is in your data warehouse today.
What is it?
The audiences you create in Helix are now synced daily to your data warehouse. From your data warehouse, create reports using your audiences or push your audiences into your marketing tool to create targeted campaigns.
Why does it matter?
View audiences in your data warehouse's reporting and analytics projects.

Example:

Create a Tableau dashboard that tracks ticket sales transactions and a Helix audience identifying upsell targets. Then, add a filter on the Tableau report for that audience and segment your report to show how many upsell targets made a purchase.
Example: Create a Helix audience for at-risk accounts and a Tableau report built using your data warehouse that shows live attendance data. Then, add the at-risk audience to that report so when they show up a team member greets them at their seat.

Create automated data extracts to push those audiences into marketing tools.

Example:

Create an e-commerce buyers audience that live in your market but are not ticket buyers and do not currently have an open ticket sales opportunity. This audience will automatically refresh and sync into your data warehouse nightly. From here, set up an extract to an AWS s3 bucket that is connected to your email marketing tool, like Salesforce Marketing Cloud or Eloqua, to pick up that data and automatically put it into a marketing journey.
How does it work?
For KORE DWA clients, any existing audiences built in Helix are already automatically syncing into your data warehouse. Any future audiences that you build will be automatically synced daily.
For non-KORE DWA clients, Helix can export the audience data to an AWS s3 bucket or a SFTP (submit a request to KORE Support to export a view and KORE will set up a SFTP).
Your Business Intelligence (BI) team can set up a view in DWA. You will then need to submit a support ticket to KORE to set up a data extract to AWS s3 or SFTP of the view you created. From there, your IT team can configure your marketing tool to ingest from SFTP. If you need additional assistance with the last step, KORE KPI consulting group can provide more information and support.
Who gets it?
If you have existing audiences built in Helix and a data warehouse (either KORE's DWA or your own data warehouse), you will see your audiences in your data warehouse and can start using them today. There is no action you need to take for the sync to occur.
For more info about Helix and DWA's integration, see our Help Center Article.
November 28, 2023
Data Stewardship
Accurately target customers by adjusting Golden Record to achieve the last 1% toward full data accuracy.
Our new Data Stewardship feature makes our Helix platform flexible, allowing you to modify inaccurate Golden Records. Tie breaker and matching rules work for 99% of uses cases. However, some use cases, such as two customers being matched that shouldn't have been, fall outside 99% of the most common scenarios and prevent your fan data from being 100% accurate. When fan data is 100% accurate and dependable, your campaigns and outreach are more effective.
What can you do with the Data Stewardship feature?
Automatically Flag Records Needing Review

As values change at the source and new records or sources enter Helix, the Data Stewardship feature will automatically flag Golden Records that are out of sync with your matching rules.

Combine Golden Records

When new information enters Helix, the Data Stewardship feature identifies Golden Record that should be combined into one.

Split Golden Records

When new information enters Helix, the Data Stewardship feature identifies Golden Records that should be split into two or more Golden Records.
The Data Stewardship Functionality is a New Icon on the Right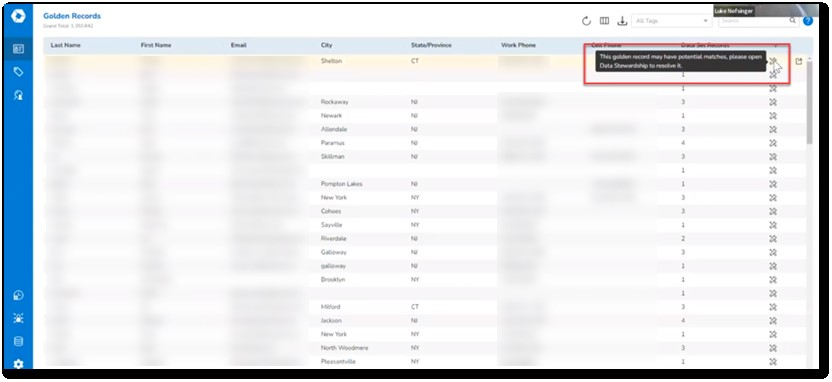 New Data Stewardship Button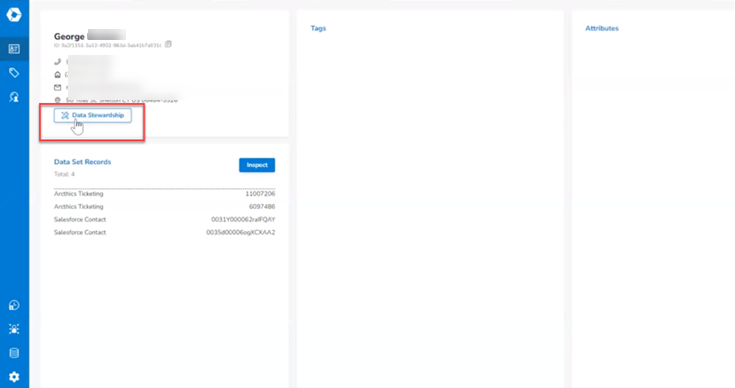 Combine or Split Records with the Buttons on the Right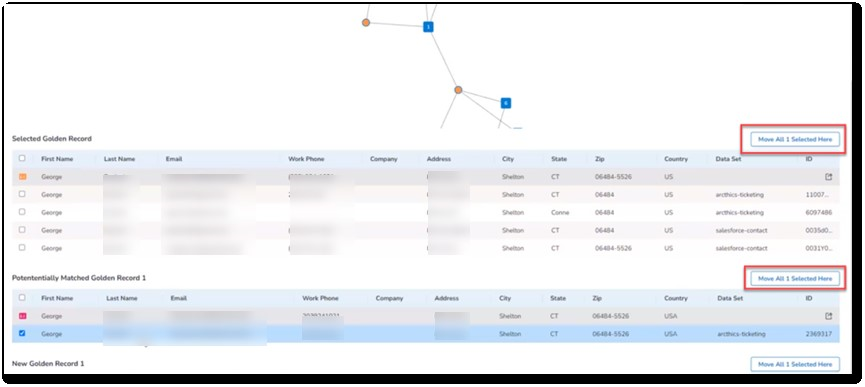 Data Validation
Improve the quality of data going into Helix to make fan engagement decisions with confidence.
Data Validation allows you to review the data quality of each of the standard personally identifiable information (PII) fields. Data quality is the most important component to master data management. By improving the quality of the data going into Helix, you increase the accuracy of your Golden Records, and the impact Helix has on your fan engagement decisions and business.

What can you do with the Data Validation feature?

If you find too many "bad" values in your data, adjust your Helix data source definition to improve the accuracy of the data synced into Helix.

Example:

If there are multiple "invalid format" values in the phone number field, then add a case statement to turn all the "invalid format" into "NULL". "Null" is a specific value in database terminology that signals the tie breaker rule to move onto the next data source.

Example:

If several email addresses or first names have the string value of "unknown" or are blank (""), then adjust your SQL statement in Helix to use a case statement to turn all values to "NULL".

Check out these best practices for creating and cleaning up a Helix data set.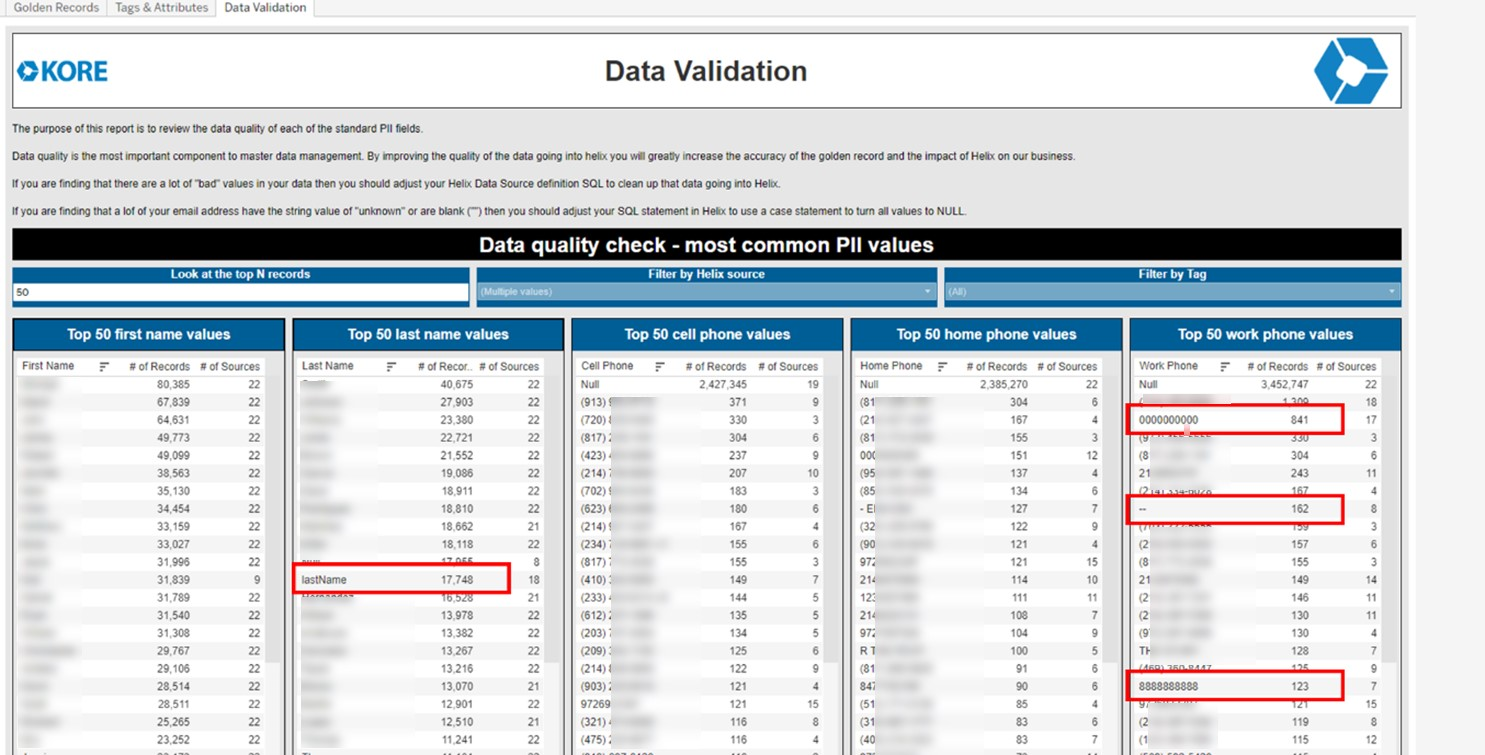 Processing History
Investigate and solve data processing issues faster, improving Helix data quality and reliability.
The new Processing History feature shows all the processes and current statuses of data in Helix. If data is failing to process, you can click into that failure status, understand why, and update it yourself. It empowers you to investigate and improve data quality, faster. For example, if an attribute is failing because there is a "null" value in the ID field, you can update your attribute definition to filter for any "null" values.
New Processing History Button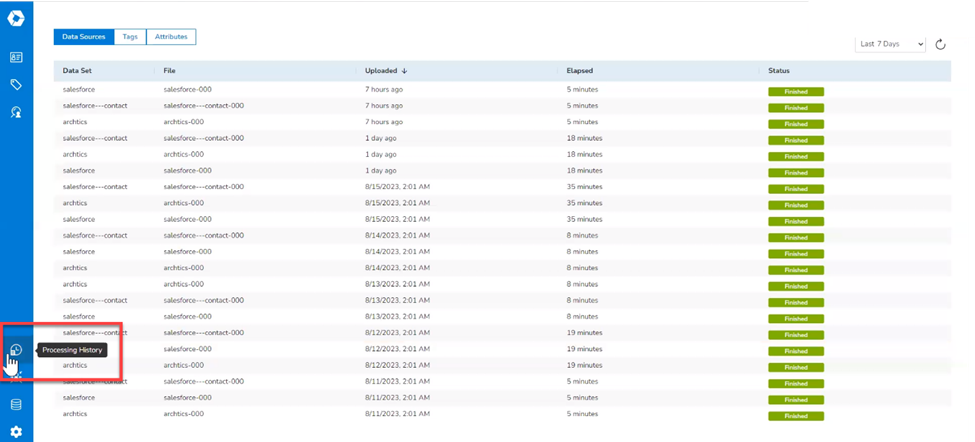 See Status on the Far Right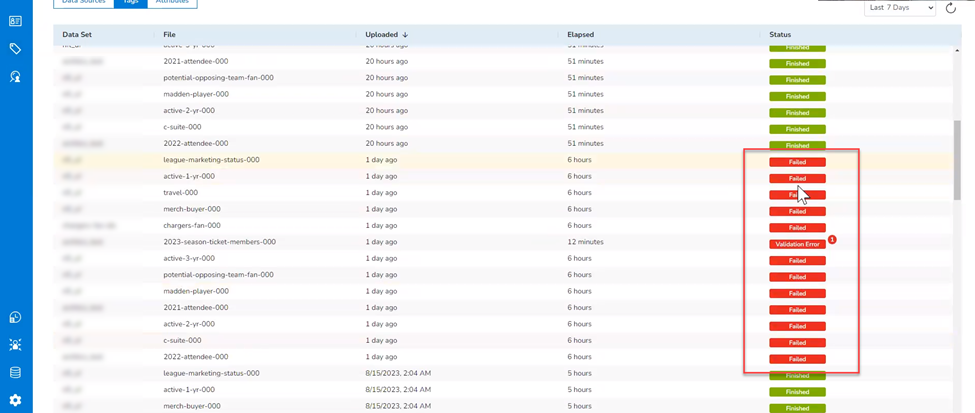 Double Click Into a Failed Status to See What the Issue Is