In KORE ProSports's Ticketing Module, FanFinder now integrates with Oracle's Eloqua marketing service. You can manage the Eloqua connection within KORE, search for CRM and KORE Ticketing contacts in FanFinder and push these contacts as a Shared List to Eloqua for your Eloqua marketing automation with one click. You can also review and manage Push histories in FanFinder. Contacts in KORE are synced with your contacts in Eloqua by the use of KORE DWA. 
With this integration, you no longer need to export the KORE Ticketing contact list from FanFinder and then import into Eloqua in separate steps. And you don't need to worry about contact synchronization between KORE and Eloqua. It marries the powerful KORE FanFinder search capability with Eloqua's marketing automation and provides greater process efficiency to your business.
To use this feature, please contact your KORE Success Manager. Below are the steps to set up in your FanFinder and Eloqua environments if you have this feature enabled. 
1. Inform KORE Success Team your Eloqua Shared List folder structure (name and path) intended to store contact shared lists pushed from KORE FanFinder. KORE staff will set up the folder structure in FanFinder for you. In the future, we plan to make this step configurable by users. 
2. Store your Eloqua credentials and establish connection in Configuration Records→DWA→Configuration.

Click on "Manage" and enter your Eloqua Site name, User Name and Password as prompted. Click "Save" and the connection will be validated. 

3. Launch FanFinder and search for contacts. Push contacts to new Eloqua shared list from FanFinder via the "Push to Eloqua" button. If a FanFinder contact is new to your Eloqua environment and you want FanFinder to create it in Eloqua for you, select option "Create contacts not found in Eloqua". Otherwise, select "Exclude contacts not found in Eloqua".  The Shared List Name you supply will be created in the Eloqua folder you specify.

4. After confirmation and clicking the final "Push to Eloqua", you can check push progress and act on error messages (if any) in Eloqua History Tab. The "Details" column contains the information related to success or failure messages that will provide clues to resolve the failures.  You can review and manage your shared list push history in here as well.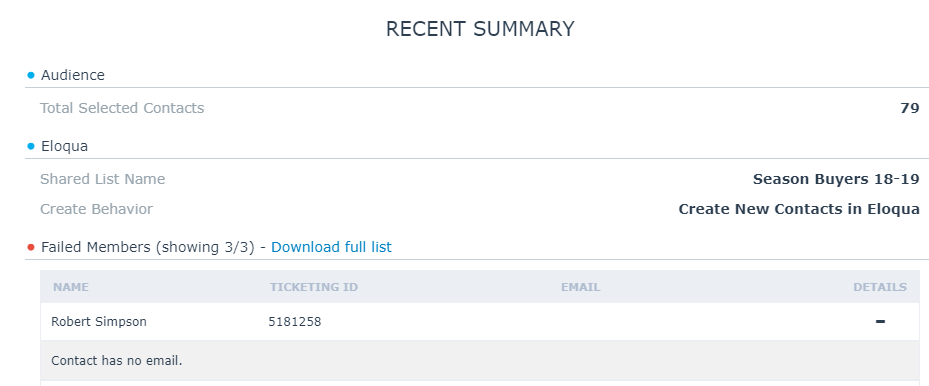 5. The next time you login to your Eloqua environment, you will see that the Shared List Name you specified in FanFinder was created in your Eloqua folder. You can now use this Shared List in Eloqua for marketing automation.