Overview
KORE Ticketing can integrate with several different ticketing systems, each with its own way of describing everything. This can cause confusion when the same word is used to mean different things. Additionally, similar words may have important distinctions. We therefore need to be specific about each term's context and meaning.
This diagram illustrates the relationships between the terms we'll be discussing: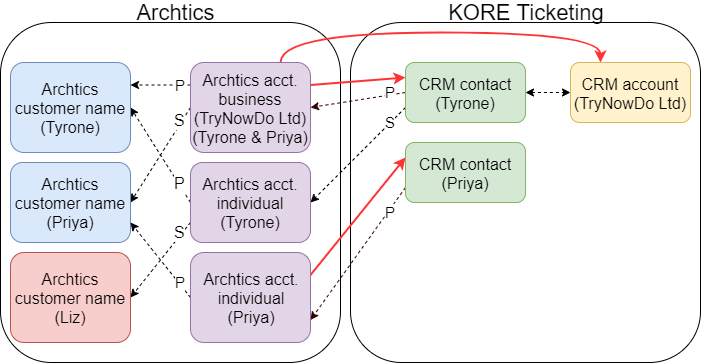 Dashed arrows represent relationships where the source object "has" the target object.
Red arrows indicate a target created because deduplication found it didn't already exist.
"P" means primary, "S" means secondary.
Accounts and contacts
Archtics accounts and CRM accounts do not represent the same things, nor do Archtics customer names and CRM contacts.
Archtics accounts represent a financial relationship with a purchaser. Each account must have at least one Archtics customer name associated with it. Each Archtics account also has a "type" of either individual or business. We create CRM contacts from both types of Archtics accounts. A business type Archtics account does not directly become a CRM account.
CRM accounts represent a company or similar entity. Each CRM account has a field for the company's name and may be associated with any number of CRM contacts, including none if you currently have no contact person at a company. A CRM account is created the first time we discover a company name in an Archtics business account. A company should only be associated with one CRM account.
Archtics customer names represent individual people. An Archtics customer name isn't literally just a person's name—it's a database record that contains several fields, including a unique ID number. An Archtics customer name may be associated with multiple Archtics accounts.
CRM contacts also represent individual people. Each CRM contact has fields for that person's first (given) and last (family) names, among other details. A CRM contact may optionally be associated with a CRM account, but cannot be associated with more than one CRM account.
Primary and secondary
Archtics and KORE Ticketing both use the terms "primary" and "secondary", but the meanings are different.
An Archtics account must designate one Archtics customer name to be its primary customer name. The Archtics account may optionally have a secondary customer name and any number of other customer names. The primary customer name represents the main contact person, typically the person who created the Archtics account.
A CRM contact must designate one Archtics account as its primary Archtics account. The CRM contact may have any number of secondary Archtics accounts, including none. Here, the primary Archtics account represents the contact information shown in the CRM interface. A secondary Archtics account is one that KORE Ticketing has identified as a duplicate.
Individuals, businesses, companies, and aliases
Individual and business are types of Archtics accounts. The type is only an indication of what the Archtics account is used for; it does not affect anything else in the Archtics account. When viewing a CRM contact, the primary Archtics account's type is displayed. However, the type does not have any effect on our processing.
Company is the name of a business or similar entity. Archtics accounts have a company_name field (though it's usually null, meaning it isn't filled out, for individual type Archtics accounts). When we process an Archtics account where the company_name field contains a name, we try to match it to an existing CRM account's name field. If the company_name from the Archtics account doesn't fuzzy-match any existing CRM accounts, we create a new CRM account using company_name. The new CRM account is connected to the CRM contact which is associated with the Archtics account.
An CRM account alias is a variation of the company name associated with a CRM account. We identify aliases through fuzzy matching; we remove spaces and common prefixes and postfixes from the company names, then compare them to see if they match. For example, "Fed Ex LTD" could be an alias of "FedEx Inc." CRM account aliases are used during deduplication to avoid creating multiple CRM accounts for a single company.