Overview
KORE provides built-in support for many commonly used data sets. If your organization uses additional data sets, you can configure Helix to use them for Golden Records and features like Tags.
Requirements:
Add data source
Select Golden Record Management > Add Data Set & Map Fields to open the interface. Here you can view existing data sets and configurations. Next, click Add a new data set at the bottom of the list and provide the necessary details.
Display name: will be shown in the user interface and can be changed later.
API name: can be used to access this data set using an API—cannot be changed later.
SQL: a query that selects fields from your data source to be used in Golden Records—each row it returns must be unique.

Click the Apply button to proceed to field mapping.
Example SQL queries
Although Arctics and Marketo have built-in support, here is what a suitable SQL query for each could look like:
Archtics
SELECT
	acct_id AS id,
	name_first AS first_name,
	name_last AS last_name,
	email_addr AS email,
	company_name,
	street_addr_1 AS address_line_1,
	street_addr_2 AS address_line_2,
	city,
	state,
	zip,
	country,
	phone_day AS work_phone,
	phone_cell AS cell_phone,
	phone_eve AS home_phone
FROM archtics.cust c
WHERE c.primary_code = 'Primary'

Marketo
SELECT 
	id, 
	firstname AS first_name, 
	lastname AS last_name, 
	email AS email, 
	inferredcompany AS company_name, 
	address AS address_line_1, 
	city,
	state, 
	postalcode AS zip, 
	country, 
	createdat AS created_on, 
	updatedat AS updated_on, 
	processed_date AS received_on
FROM marketo_v2.leads

Map data set fields to Golden Records
Note: It is not required to map every Golden Record field to your new data set. If you leave a field unmapped, the Golden Record entity resolution will ignore this data set for that particular field.
There are two ways to map fields: automatic and manual.
Automatic: If a column name in your SQL query results matches a Golden Record field's name, the system will automatically map it for you. You can use the AS keyword in your SQL query to control this, as shown in the prior examples.
Manual: For each column name from your SQL query results, choose a Golden Record field from the drop-down list.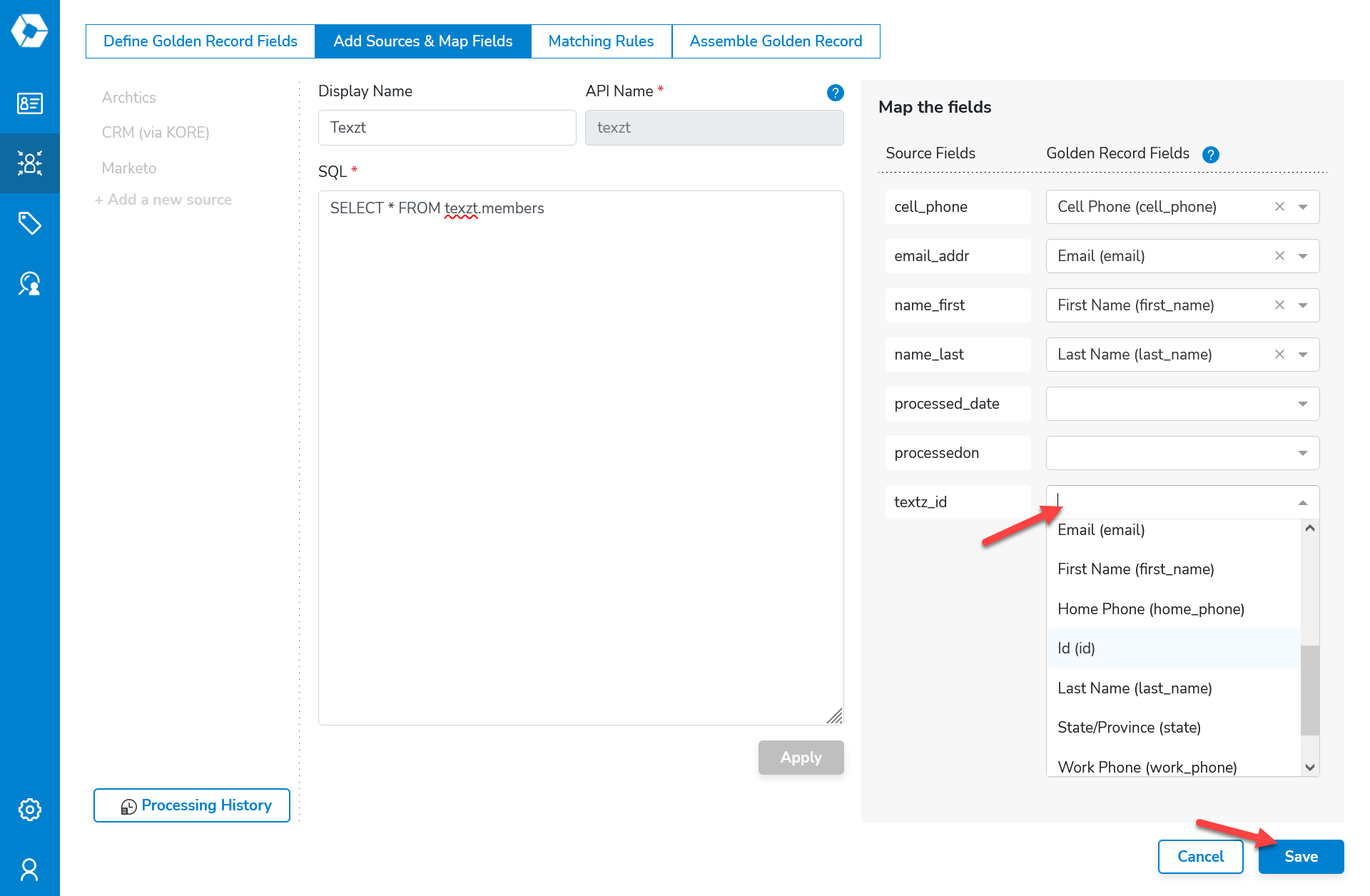 Click the Save button to save the new data set and field mappings. Once you complete this, you can edit your matching rules to take advantage of the new data set.
Data from the new data set will be processed during the next update. You can click the Processing History button to view the logs and verify whether the data has been processed.