Overview
Most individual assets are delivered at or during events. Not every asset can be delivered at every event, so you can use event lists to categorize events. For example, many assets can only be delivered at home games, while others may be available for all events including away games.
The most common event lists are Home, Away, and 365 Days (used for inventory that could be delivered at any time). You may create these and other event lists to suit your organization's needs. Each individual event may be included in multiple event lists.
Events
Events can be entered individually or uploaded in bulk. Typically, sports teams import an Excel sheet containing all the events in an upcoming season.
Navigate to the Events tab in your KORE Sponsorship module. Here, you can view all existing events. To add events, open the overflow menu (three vertical dots) and choose an option.

Add individually
After clicking Create New Event, you'll see an entry form. Enter the information you have, then click Save. (Only the Season field is mandatory, but we strongly recommend also entering a Name and Date at minimum.)

Once the event is created, you can view and edit it. You can also add it to any event lists you've already created.

Bulk import
For organizations with numerous events each season (such as an MLB team), it's typically more efficient to enter your events into an Excel spreadsheet. First, you'll need a sheet to use as a template. To create one, click Excel Import / Export, then choose a season and click the Export button.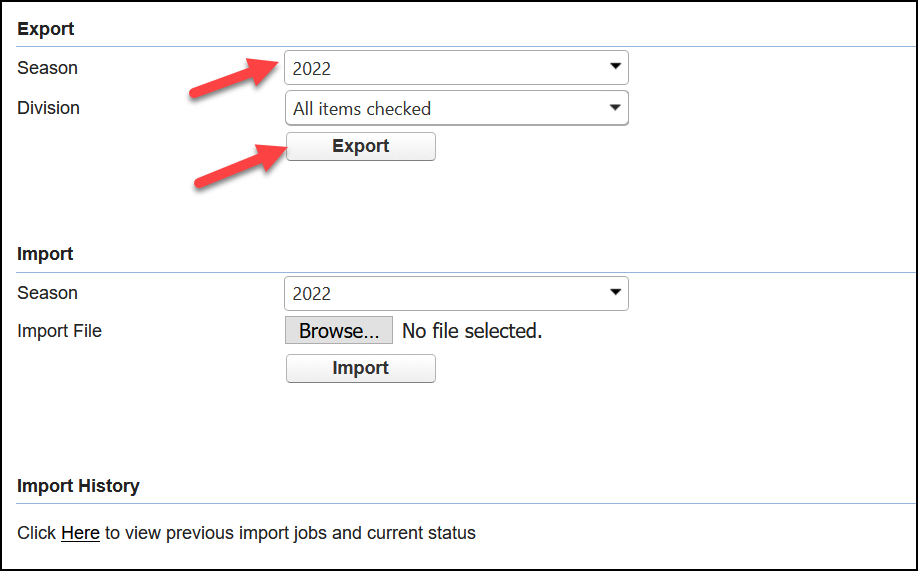 Download and open the Excel sheet. It will contain the existing events for the season, if any. Below these, enter the details for your events. Leave the 'kore_eventid' field blank for the new events. Save the file when finished.
Caution: The spreadsheet contains hidden columns used during the import process. Always use a new row to add a new event.
Next, return to your web browser and upload this file in the Import section. Be sure the correct season is selected.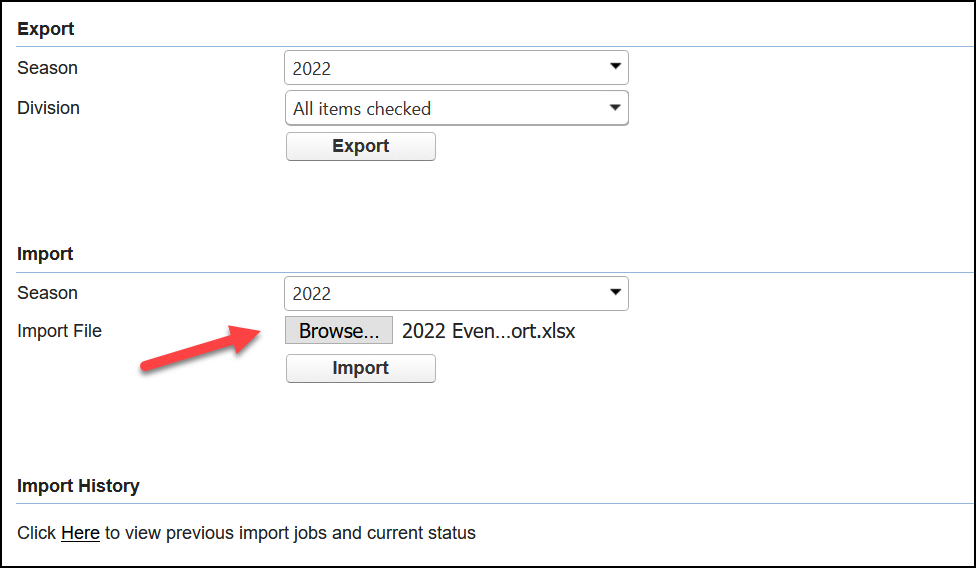 Check the progress screen to verify that your events have been added. If any errors were reported, click View Results to see why. Then re-export the events for that season and try adding the missing events again.
Warning: If there is a mix of successfully created events and errors, don't fix the errors and resubmit the same Excel sheet. That Excel sheet won't have the kore_eventid for the newly created events, so the system would create duplicates. Users cannot delete events in bulk—open a support ticket if this becomes necessary.

Event lists
To create a new event list, open Configuration Records and select Event Lists from the Sponsorship section.

Here, you can view existing lists. Click the button to create a new list.

If your organization also uses KORE Suites & Premium. use the Module field to select which module (Sponsorship or Suites & Premium) this event list can be used in. You may also select "Both". Complete the form and click Save.

After saving, you can view the new empty list. Click the Manage button in the Events section to choose which events should be in this list. (An event may be included in multiple event lists.) In the Event Lookup window, choose the appropriate season and use the checkboxes to select events for this list.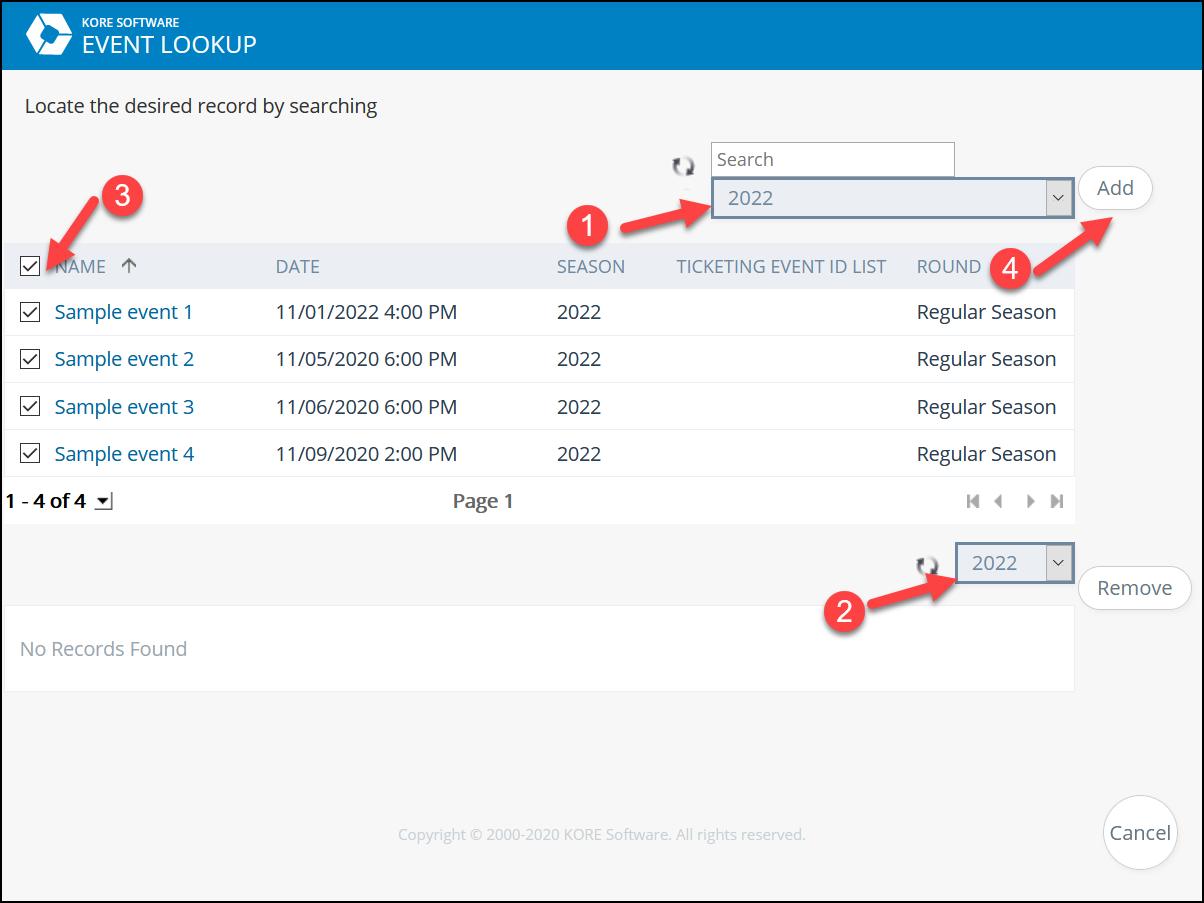 After clicking Add, the selected events will move to the bottom section. If any were added by mistake, you can select the events and click Remove. When finished, close the window.