Overview
A deal sheet can be viewed in CRM without using the Deal Manager or activity screen. Open a deal sheet by clicking its deal sheet number.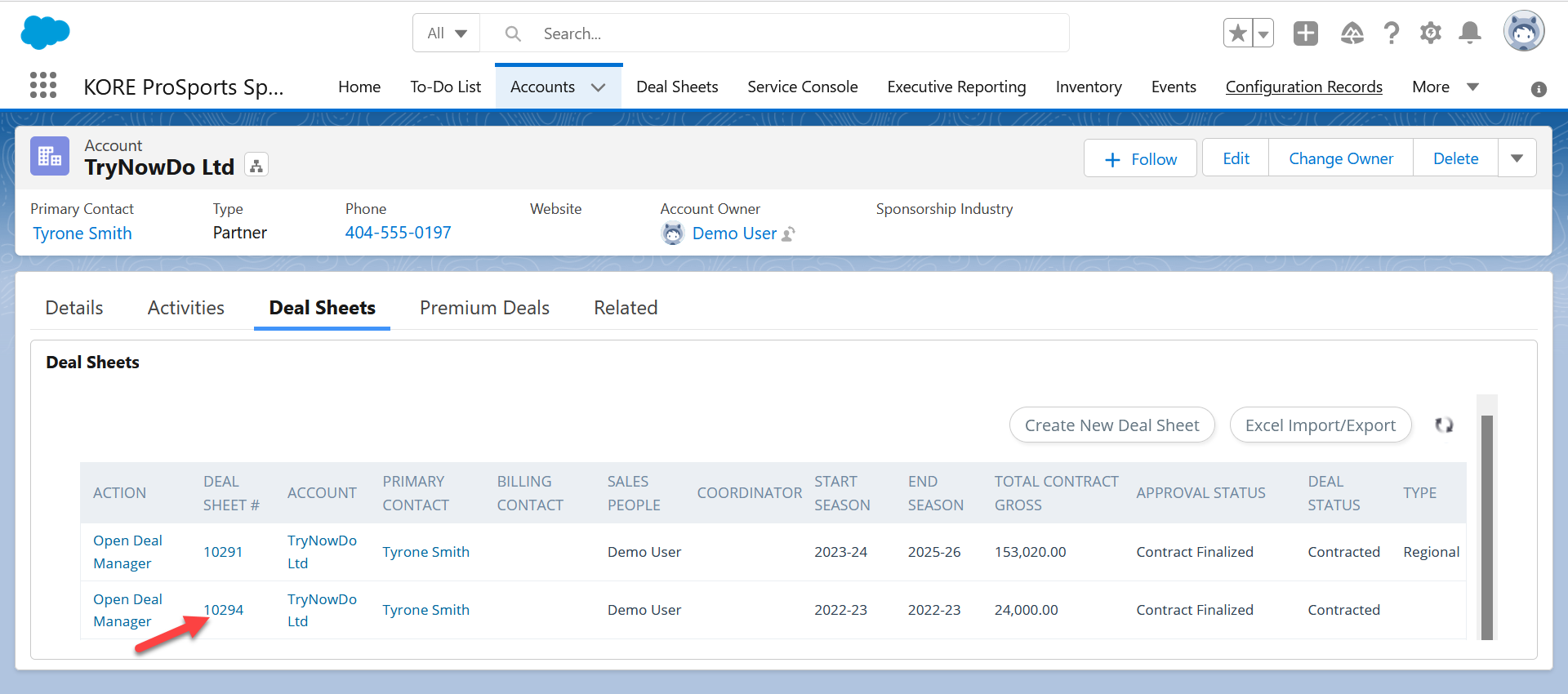 The CRM view gives you a single-page overview of the deal, along with several additional options. In general, use the Deal Manager to build a deal and the CRM view to manage it.

Buttons
At the top of the page, several buttons are available to help you manage the deal:
Open Deal Manager
Reset workflow

Takes the deal back to the first stage of the approval workflow (usually "draft").
Does not erase the approval history—it can still be viewed below.

Mark as lost

If an agreement couldn't be reached, mark the deal as lost to remove it from the list of active deals and to exit the approval workflow.

Clone deal sheet

Create a duplicate deal sheet which can be edited separately, useful for building multiple proposals to offer to a partner. This can also be used as a starting point for building a multi-year deal's renewal.
Note that the newly-created deal sheet will not be opened automatically, and you may need to adjust the filters to find it.

Generate contract

Choose a template for the contract. Admins can add these via Configuration Records > KORE > Mail Merge Template.
Click Submit to download the filled-in contract in MS Word format (docx).

Open service console (deprecated)
Deal summary report

Create and open a PDF deal sheet summary, identical to the one available through Deal Manager.
DO NOT share this report with clients—it includes your rate card details.

Revenue allocations
Lock / Unlock deal sheet

Prevent (or allow) changes to a deal sheet. Once locked, only a user with the "lock override" role (typically only admins) can unlock the deal sheet. Frequently used once a deal is contracted so that the deal sheet remains a "source of truth".

Deal opt-out

In some contracts, a customer may have the right to cancel a multi-year deal before its conclusion.

Send to DocuSign
Send to EchoSign
Edit

This only edits the CRM record, not the deal sheet itself. Use the Open Deal Manager button instead.
This is primarily used to edit the options in the Advanced section.
Workflow approval
In addition to the emails which may be sent during an approval workflow step, this section provides the buttons and text fields necessary to complete a step. Actions are only available to the assigned users for the current step. Other users will see a banner stating no action is required from them.

Deal sheet summary
The rest of the page presents several sections and grids where you can view aspects of the deal sheet. Some of these sections include a Create button which allows you to add additional lines without opening the Deal Manager.
General
Advanced
Opportunity
Deal lines
Activities
Rosters
Revenue
Bonus deal lines
Trade items
Expense allocations
Bills
Options
Exclusivity
Associated premium deals
Workflow approval history
E-signature document